Overview
Gardenfest!- Our 20th Anniversary!
On February 5th & 6th, 2022, Vero Beach's Riverside Park transformed into one of the largest family-friendly garden shows in Florida. Gardenfest! visitors came from far and wide to stroll under the oaks and enjoy the amazing vendors, lectures, demonstrations, food, children's crafts, and raffle prizes.
Many visitors arrived with their wagons in tow and filled them with the treasures they found. Gardenfest!, "Nature's Finest Marketplace" is an annual event hosted by the Garden Club of Indian River County and celebrates everything garden. Twenty years have been spent years scouring the south to bring together the highest quality plants and garden accessories.
Proceeds from Gardenfest! help fund the club's community outreach programs aimed at enhancing, preserving, and beautifying the landscape of Indian River County plus scholarships for county youths.
Garden enthusiasts of all levels look forward to experiencing Vero's premier annual gardening event, Gardenfest!
Gardenfest! will return to Vero for its 21st anniversary, the first weekend in February – February 4 & 5, 2023 in Riverside Park. Mark your calendar, bring your wagon, rain or shine.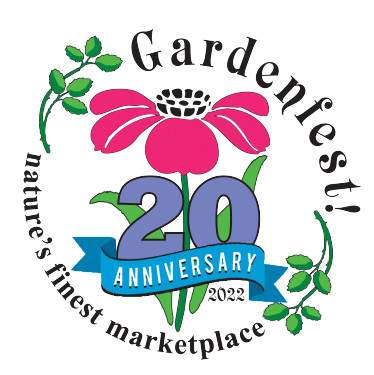 20th Year Celebration Feb. 5th and 6th, 2022
Interested in being a SPONSOR or ADVERTISING with Gardenfest!?
Sponsorships and Advertising Opportunities are available. Leave us a message at 772-567-4602. Or drop us an email with 'Wish to be a sponsor or advertiser' in the subject line.
Interested in being a VENDOR? Please click here for more information.
Please note that inquiries from potential vendors must be done through mail and can not be accepted by email or by telephone. Inquiries are reviewed by a committee of members which decides if invitations will be issued.
Want to know more?
Please leave a "Like us" on Facebook.
Select the "About Us" tab on this site for club membership information.
The Garden Club of Indian River County Inc. has been a member of The Florida Federation of Garden Clubs, Inc. since 1933 and is affiliated with the National Garden Clubs, Inc.
Print Driving Directions Here
The Garden Club of Indian River County, Inc. wishes to thank the following for their generous support.
Click here to view and download the full list of donors and sponsors.
If you have trouble accessing this document, please contact us for assistance.
Thanks To Our Wonderful Sponsors!!
Blue Ribbon Sponsors
AR Homes
LeafFilter Gutter Protection, LLC
Leaf Home Water Solutions, LLC
Watson Realty Corporation
White Glove/Pak Mail Beachside
Vero Beach Magazine
Award Winner
Debbie Bell, Berkshire Hathaway Home Services
Busy Bee Lawn & Garden Center
Clear Choice Windows and Glass, LLC
Mullinax Ford of Vero Beach
Nelson Morgan Wealth Management
Tom Collins Insurance Agency
Green Thumb Gardeners
Florida Power & Light Company, Inc.
Jack's Complete Tree Service, Inc.
Proctor Construction Company
Allamanda Garden Circle of GCIRC
Hibiscus Garden Circle of GCIRC
Jasmine Garden Circle of GCIRC
Poinsettia Garden Circle of GCIRC
Backyard Gardeners
ABCO Garage Door Company, Inc.
Carissa Garden Circle of GCIRC
Consignment Gallery
Farrow Construction Corporation
Friends of Gardenfest!
Johnny D's Market and Bistro
Gardenfest! Slideshow
For those of you with dial-up please click here to view pictures from Gardenfest!.
Unable to see a slide show below? Allow blocked content in Internet Explorer.