Overview
Gardenfest!- Our 20th Anniversary is coming!
On February 5th-6th, 2022, Vero Beach's Riverside Park transforms into one of the largest free and family-friendly garden shows in Florida. Gardenfest! visitors come from far and wide to stroll under the oaks and enjoy the amazing vendors, lectures, demonstrations, food, and raffle prizes. Many arrive with their wagons in tow, ready for the treasures they will find.
Gardenfest!- Nature's Finest Marketplace is hosted by the Garden Club of Indian River County and celebrates everything garden. Gardenfest! chairmen have spent years scouring the south to bring together the highest quality plants and garden accessories.
At Gardenfest! plants for sale include palms, ferns, orchids, bromeliads, Florida natives, herbs, succlents, bamboo, fruit trees, bonsai, roses, and geraniums. There will also be planters, pottery, furniture, lighting, staturary, and other garden accessories.
In addition, the crowd favorite, " Ask the Experts", returns each day with free lectures, demonstrations and Q&A sessions all led by local authorities.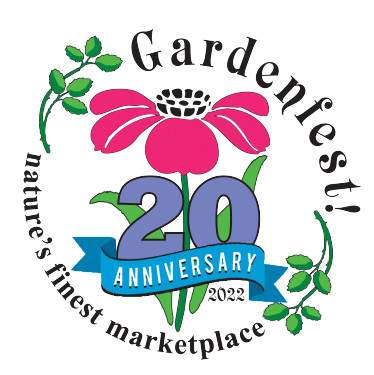 20th Year Celebration Feb. 5th and 6th, 2022
When it's time to take a break, rest under the oaks and enjoy food vendors, including a Vero Beach favorite, 14 Bones BBQ.
There are activities for the younger gardener too, and don't forget tickets for the wonderful raffle prizes offered in packages such as entertainment, dining, family, and spa.
Proceeds from Gardenfest! help fund the club's community outreach programs aimed at enhancing, preserving, and beautifying the landscape of Indian River County plus scholarships for county youths.
Garden enthusiasts of all levels look forward to experiencing Vero's premier annual gardening event, Nature's Finest Marketplace - Gardenfest!
Free Admission and parking. Rain or shine. And don't forget your wagon!
Interested in being a SPONSOR or ADVERTISING with Gardenfest!?
Sponsorships and Advertising Opportunities are available for 2022. Leave us a message at 772-567-4602. Or drop us an email with 'Wish to be a sponsor or advertiser' in the subject line.
Interested in being a vendor for 2022? Please click here for more information.
Please note that inquiries from potential vendors must be done through mail and can not be accepted by email or by telephone. Inquiries are reviewed by a committee of members which decides if invitations will be issued.
Want to know more?
Please leave a "Like us" on Facebook.
Select the "About Us" tab on this site for club membership information.
The Garden Club of Indian River County Inc. has been a member of The Florida Federation of Garden Clubs, Inc. since 1933 and is affiliated with the National Garden Clubs, Inc.
Print Driving Directions Here
Thanks To Our Wonderful Sponsors!!
Blue Ribbon Gardeners
Vero Beach Magazine
White Glove Moving and Storage/Pak Mail Beachside
Leaf Filter North of Florida, LLC
Watson Realty Corporation
Typtap Insurance
B 94.7 Fresh Country, 93.7 GYL and 97.1 Ocean-FM
Award Winner
Tom Collins Insurance Agency Inc.
Nelson Morgan Wealth Management
Green Thumb Gardeners
Jack's Complete Tree Service
Florida Power and Light Company Inc.
Proctor Construction Company
Central Florida Ferns & Foliage
Allamanda Garden Circle of GCIRC
Jasmine Garden Circle of GCIRC
Poinsettia Garden Circle of GCIRC
Helmet House Corporation
Backyard Gardeners
Rob Atkins, Architecture Inc.
Consignment Gallery
Dace and King Stubbs Fund
Gardenfest! 2020 Slideshow
For those of you with dial-up please click here to view pictures from Gardenfest! 2020.
Unable to see a slide show below? Allow blocked content in Internet Explorer.